Going 'Rogue One': A German 'Star Wars' Fan Just Leaked a Bunch of Spoilers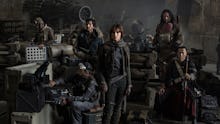 Ironically, Rebel One: A Star Wars Story just fell victim to a rogue effort.
A German fan of Star Wars apparently got his hands on what Vulture called "advance preview pages for a companion book tied to the movie." Indeed, the pages include detailed information about the characters involved in the spinoff movie, as well as bits about ships, robots and more.
Read more: 'Rogue One: A Star Wars Story' Is Pissing People Off With its Female Lead, Felicity Jones
Each page is marked "NOT FINAL," indicating that these are indeed preview scans of a kind of companion book. They include concept art and photo illustrations of the cast. They could be fakes, of course – but it's worth noting that creating the illustrations and photos would require effort and resources likely unavailable to anyone not involved with the movie.
Speaking of the cast, here's some tidbits we find out about them in the scans. First, our hero:
Jyn Erso (Felicity Jones): As a highly skilled soldier and warrior, Jyn, along with her cohorts in the rogue band of resistance fighters, is prepared to steal the Death Star plans and bring new hope to the galaxy. United in this daring mission, Jyn and the other heroes in the Rebel Alliance will have to enter battle against the evil forces of the empire.
Then there's the apparent main villain, the director of the Empire's armed forces:
Director Krennic (Ben Mendelsohn): As the Director of the Imperial Military, Krennic is prepared to protect and preserve the evil Galactic Empire. His means of defense will be needed more than ever when a rogue band of resistance fighters comes together for a daring mission that will see them attempt to steal plans for the Death Star, the Empire's ultimate weapon.
So Rogue One is apparently all about a fight for the Death Star. Considering that Rogue One takes place before A New Hope, and the Death Star exists in that movie, this would seem to suggest a specific conclusion to the new spinoff film. But if The Force Awakens is any indication, even if the plot is obvious, the ride will be more than worth it for fans.
Read all of Rogue One's alleged spoilers here.