Sextortionist Creeps Who Scam Women for Cybersex Could Soon Be Criminals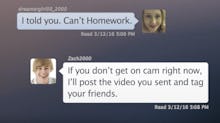 Sextortion is when someone threatens to publish naked photos of you online in order to get something from you — be it sex, money or even just more pics. Across the country, these predators exploit children, build databases of porn coerced from their targets and amass networks of up to thousands of victims. And soon, they might all be sex criminals at the federal level.
On Tuesday morning, California senator Barbara Boxer sent a letter to the Justice Department urging it to begin tracking instances of sextortion and start making that data available.
The sudden outrage from D.C. follows an extensive sextortion report from the Brookings Institution, which called on lawmakers to make sextortion a crime at the federal level so that states don't have to improvise and jerry-rig old property law to prosecute a sex crime.
"[S]ince specific data is not collected by any federal entity on online sexual extortion, the full extent of this crime is largely unknown," Boxer writes in the letter, provided to Mic via email. "In an attempt to better understand and address these serious threats facing women, men and children on the Internet, please provide information outlining the efforts the Department of Justice is taking to collect this critical data."
Shots fired: Congress is going after sextortion, too. Massachusetts Rep. Katherine Clark vowed last week to take on sextortion with new legislation. This is the same congresswoman that is taking on the dangerous online prank called "swatting," and was swatted in retaliation. 
Her anti-swatting bill passed the House Energy and Commerce Committee and is headed for congress. Sextortion could be the next battle.
"When predators come after our kids in the real world, we respond with the full force of the law, and it should be no different when it happens online," Clark wrote in a statement sent to Mic. "Our laws need to keep pace with threats to our children, and I will be filing legislation to address this crime."