Kim Kardashian West Is a Mind-Corrupting Spy, According to the Iranian Government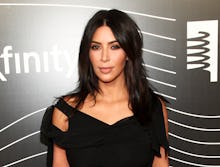 Iranian officials are accusing Kim Kardashian West of being an Instagram spy (InstaSpy?) hell-bent on corrupting the minds of young women throughout the country.
In new reports from the Iranian government's organized cyberspace crimes unit, spokesman Mostafa Alizadeh said, "We are taking this very seriously."
The agency has allegedly warned 170 Iranians about using the photo sharing app and engaging with the reality star, according to Iran Wire.
The publication alleges at least 29 users are being targeted for engaging with the jet-setting celebrity online, and another 170 are being warned about the star and her supposed elusive espionage plot with the social media platform.
Whether that's actually the case or not is unclear, though the country has been making arrests for "un-Islamic selfies," the BBC reported.
So far, neither the 35-year-old reality star and entrepreneur nor Instagram have made statements about these outlandish allegations — but could the Iranian government be onto something?
Kardashian West, suspiciously enough, has a body-double-worthy look-alike.
And she and her husband have been known to fraternize with powerful world leaders.
And don't forget about her ability to camouflage with floral furniture.
Is Mrs. Kardashian West a nefarious spy, or just a multi-millionairess selfie aficionado? Who's to say? All we can do is watch and try to keep up with her latest international moves.
Read more: Kim Kardashian West Tweeted About How Much She Loved Cuba — And It Totally Backfired