Photos: School Segregation Still Runs Deep 62 Years After 'Brown v. Board of Education'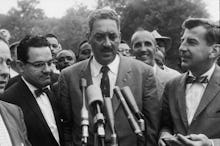 Sixty-two years ago today, the Supreme Court issued a landmark ruling to desegregate schools across the United States in Brown v. Board of Education.
But racial divide in schools is still rampant.
Plenty of school districts in diverse cities still have schools which are largely segregated — 80% of students in Brooklyn's Crown Heights school district are black, 83% in Baltimore. Forty percent of the students in Chicago's school district are black, while 45% are Hispanic and 86% are classified as "Economically Disadvantaged Students."
Of course, segregation has been illegal for 60 years. But in reality, it's not hard to come by in school districts across America today, where districts serving majority low-income, minority communities experience a dearth of resources compared to their upper-income, majority-white counterparts.
Brown v. Board of Education offered hope for many Americans who hoped the landmark decision would usher in a period of improvement and equality for children in schools.  
So, while it's important to honor the courageous activists of Monroe Elementary in Topeka, Kansas, where a parent of a student's lawsuit inspired the iconic case: 
It's also crucial to reflect on the present, and issue ourselves a reality check because one look in the classrooms of today, reveals just how much further we have to go.
In Detroit public schools, where 84% of students are black, teachers have reported mold growing on the walls.
And it's caused the teachers to call out sick and schools to shut down.
"It's the poster child for neglect and indifference to a quality teaching and learning environment for our 500 students," Detroit's Span Elementary School teacher, Lakia Wilson, wrote on the PBS NewsHour Teachers' Lounge blog in January.
What's more, there is actually a school district in the U.S. that kept its schools segregated until last week.
A federal judge ordered a Mississippi school district to desegregate its schools on May 13, after the district fought for several decades to prevent integrating its virtually all-black and historically white public schools. 
Court testimony given by both black and white residents expressed concern that there's been a a long-standing stigma against the district's all-black schools, and that the historically-white schools offer a more quality education, the New York Times reported.
"Six decades after the Supreme Court in 'Brown v. Board of Education' declared that 'separate but equal has no place' in public schools, this decision serves as a reminder to districts that delaying desegregation obligations is both unacceptable and unconstitutional," Principal Deputy Assistant Attorney General Vanita Gupta, head of the Justice Department's Civil Rights Division, was quoted saying in the DOJ's court order. 
More than six decades after Brown v. Board of Education, an integrated group of students in Mississippi's Cleveland School District, finally rode the public bus home from school on May 13: 
Read the full court order here.