The Beautiful Koh Tachai Island in Thailand Is Now Closed — And It's All Your Fault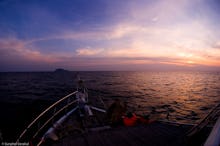 On May 10, officials from Thailand's Department of National Parks, Wildlife and Plant Conservation announced they were closing Koh Tachai, one of the country's most popular islands, to tourists indefinitely — because all that outdoor activity has destroyed the environment.
According to the New York Times, Koh Tachai is considered a "primitive zone" (or an "ecologically sensitive" area, according to the Thai news source Khaosod English) located within Mu Koh Similan National Park and, when it's not monsoon season, is swarmed with sunbathers enjoying the island's idyllic beaches. But after being overrun by tourists for decades, the island has had about all it can take, department general director Thanya Netithammakun said.
"It has deteriorated, and it is necessary to close it down to allow the conditions around the island, both land and marine, to recover without interference from tourists' activity," Netithammakun told a Thai-language newspaper, reported the Times. "Otherwise, it may cause great damage."
 Read more: This Fake Mississippi Tourism Ad Perfectly Roasts the State's New Anti-Gay Law
Steve Downing, a U.K. tourist who snorkeled off the island last year, told the BBC that in his experience, tourists aren't respectful of the island's flora and fauna.
"Unfortunately a lot of inexperienced snorkelers tend to ruin the fragile reef systems by bashing into the corals, poking about, trying to take the best photos of fish by feeding and chasing after fish," he told the BBC.
Indeed, the Times reported that divers have damaged the rare blue coral off the island's coast, and the waterfront restaurants that have developed to accommodate the hoards of visitors aren't doing Koh Tachai any favors. 
This is why we can't have nice things.