Taiwanese Model I-Hua Wu Is Maybelline's First Asian Model Featured in Global Campaign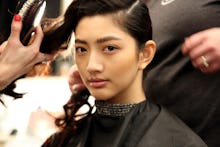 In an industry known for its lack of diversity, makeup brand Maybelline has now signed on its first first Asian model, I-Hua Wu, to be featured in a worldwide campaign, New York magazine reported. 
Though the brand has previously used Asian faces such as Chinese model Shu Pei in ads, Wu, who is from Taiwan, will be the first featured in a global campaign. She will join the likes of Herieth Paul and Jourdan Dunn on ads around the globe.
"Lots of Taiwanese models come here and work hard but have never been recognized because Taiwan is so small," Wu told New York magazine. "I'm happy to shine some light on it." 
For Wu, her modeling experience has taught her that there is no single definition of beauty, in and out of Taiwan. "A lot of Taiwanese girls are slowly letting go of giving themselves the pressure to conform to a certain type of beauty. You can't give yourself such strict definitions of what is beautiful."
In the past, Wu thought that bigger eyes and paler skin meant being beautiful, which is a common beauty standard in Asia. "As long as you think you're beautiful, you will be beautiful," she said. 
She also used to be self-conscious about her willowy height, feeling "ostracized" by her peers. "People made fun of my height, and I felt inferior and even started hunching my shoulders to try and appear shorter," she said to the magazine. "I wouldn't wear anything with a heel, even it was just with a quarter-inch of height."
Wu offered some advice to those who may be having a hard time in their careers: "But no matter what job you're doing, you have to learn how to continue persevering even if someone is saying something you don't want to hear. You're still there to do a job, and you should try not to let it affect you."
Read more: This Model Just Called Out What It's Like to Be a Woman of Color in the Makeup Chair