Could Magic Mushrooms Be the Next Cure for Depression?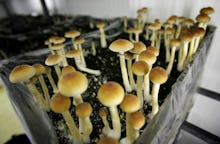 New evidence suggests a medical cure for depression might be hiding in your hippie brother's drug stash.
A "clinical trial" — this is a loose description, but more on that later — successfully used the active ingredient in magic mushrooms, psilocybin, to lift the symptoms of 12 volunteer subjects who experienced moderate to severe unipolar treatment-resistant major depression.
The findings, published in the Lancet Psychiatry, were based on a tiny sample size with no placebo or control group, meaning this thing is only meant to be proof of principle — or in layman's terms, throwing psychedelic spaghetti at a psychiatric wall.
Despite the loose study parameters, the results were promising: Two oral doses of psilocybin were administered a week apart. The researchers from Imperial College London found the "symptoms were markedly reduced one week and three months after high-dose treatment" with persistent improvement in anxiety and the inability to feel pleasure.
The study, even though it was small, was a total pain in the ass.
According to the Guardian, it took the team 30 months to get legal access to psilocybin, since it had to be packaged specifically for the trial after the packaging company got a license to deal with the schedule 1 drug.
It took 32 months for the team to receive licensing and regulation approval. By the time the drugs actually got to the patients, it cost more than $2,000 to dose a patient. David Nutt, senior author on the study, told the Guardian that "in a sane world" the same dose would cost around $40.
What's cool here is how the study might be an early step in getting psychedelics considered as legitimate options for a variety of neural disorders. At New York University, there's an entire program looking at the implementation of psilocybin for different treatment options.
With proof of principle achieved, the next step for Nutt's team might be expanding the trial to something more robust and accurate: clinically tripping balls to help 350 million people around the world.
Whoa, dude.