January Jones' Parenting Philosophy Involves a Beauty Routine for Her 4-Year-Old Son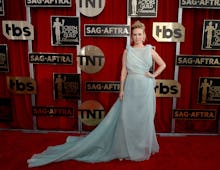 Mad Men actress January Jones is a glamorous mom who knows the importance of instilling a good beauty routine in children at a young age.
In a new interview with People, Jones said she has been pushing her skincare and wellness practices on her 4½-year-old son Xander Dane — including her previously reported $795 moisturizer habit. 
I am still pretty regimented in my routine, so the difference now is that he's added in. I like having my baths, and he takes them with me ... I'm really strict about getting him moisturized ... I may be over-grooming him. I don't know!
Over-grooming? No way! Warm baths have been known to detoxify clogged pores, and the daily application of high-quality moisturizer is essential in maintaining a youthful glow. Honestly, he's going to wake up one day in 40 to 50 years and totally thank her for his utterly pristine lack of crow's feet.
h/t People