Pro-Clinton Super PAC Just Released a Pair of Brutal Anti-Trump Ads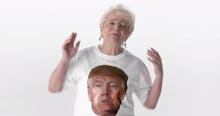 Two new ads from Priorities USA, the main Super PAC backing Hillary Clinton, unleashed a ruthless new assault against presumptive Republican candidate Donald Trump. 
Both ads honed in on the real estate billionaire's misogynistic comments, from both campaign and non-campaign related appearances.
Read more: Teen Bullied by Students and Teachers for Wearing "Make America Great Again" Hat to School
The ads were released Monday night and first broadcast during a taping of The Rachel Maddow Show on MSNBC.
In one ad, people, mostly women, mouth the words to questionable comments Trump has made about women, including an especially cringeworthy soundbite in which he suggested that if his model-turned-entrepreneur daughter, Ivanka, was anyone else, he would consider dating her.
The ads are slated to run in a number of 2016 swing states. 
The second ad features the candidate himself, first suggesting he would be a good candidate on women's issues before broadcasting a deluge of comments Trump has made on everything from defunding Planned Parenthood to punishing women who have opted for abortions. 
Trump, for his part, is not expected to take the assault lying down, and has already revealed that he intends to go after "Crooked Hillary" Clinton on everything from her decisions as secretary of state, to her conduct as first lady during President Bill Clinton's impeachment, to her suspicious involvement in cattle futures in the 1970s.