This Woman Showed Up to an Anti-Muslim Demonstration and Posed for Selfies in a Headscarf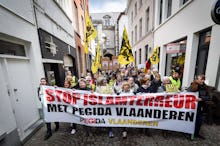 Last weekend's annual Muslim Expo in Antwerp, Belgium featured workshops, panels, vendors — and a crowd of virulently anti-Muslim protesters, who gathered outside holding signs bearing messages like "Stop Muslim Fascism."
The protestors were part of a far-right Flemish nationalist group called Vlaams Belang, which NPR has called "openly anti-Muslim."
But Zakia Belkhiri, a Muslim woman who wears a headscarf, stopped by the protest to snap some smiling selfies with the very people calling her a threat to their safety.
Photographer Jürgen Augusteyns, who was there covering the event, managed to get some shots of Belkhiri smiling alongside the visibly confused anti-Muslim demonstrators. Somehow, throwing up deuces in front of a hate-fueled protest manages to show just how painfully pointless it is.
Belkhiri's supporters have been quick to cheer her on online — retweeting photos of her selfies and sharing messages of support.
See all the photos at Vice.