Kentucky Democratic Primary 2016: Hillary Clinton Proclaims Victory Over Bernie Sanders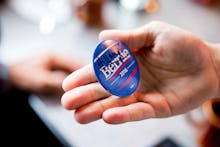 Democratic presidential frontrunner Hillary Clinton proclaimed victory over Bernie Sanders in Tuesday's Kentucky primary even as the race remained officially too close to call, seeking to turn the tables a week after she lost to him in West Virginia.
Read more: Joe Biden "Confident" Hillary Clinton Will Win Nomination and Presidency
While the Associated Press has yet to issue a call in the race, Clinton declared a win at 10:39 p.m., three and a half hours after polls closed.
With 99% of precincts reporting, Clinton led Sanders 46.8% to 46.3%, per the New York Times' tally. Kentucky Secretary of State Alison Lundergan Grimes — a supporter of Clinton's campaign — told CNN Tuesday evening that Clinton was the "unofficial winner" of the contest, and NBC News has declared Clinton the "apparent winner."
Clinton led Sanders by a comfortable 283 delegates (not including superdelegates) coming into the Kentucky battle, per RealClearPolitics. The Bluegrass State has 55 delegates to award.
Still, Clinton hit the trail in hopes of a Kentucky win that would prevent a three-state Sanders winning streak, make clear she's left Sanders no path to the nomination and encourage Democrats to trade intraparty acrimony for a united focus on the November general election.
Despite the deep fervor of his supporters and the fact that California doesn't vote until June 7, the delegate math suggests it will be difficult — if not impossible — for the Vermonter to stop Clinton now.
Clinton, who carried the state in her first White House bid, campaigned with Grimes and former Gov. Steve Beshear.
She also played up the fact that her husband was the last Democrat to win Kentucky in a presidential election, having scored victories there in both 1992 and 1996. She said she'd put Bill Clinton in charge of revitalizing the economy — and played up financial themes after having stirred anger by saying she'd drive coal miners "out of business."
The Democratic nominee is all but sure to face Republican Donald Trump in November.