Blake Lively Says She Has an "LA Face With an Oakland Booty," Internet Thinks Not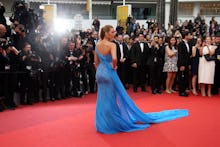 Blake Lively, back at it with the questionable commentary. 
Last week, the 28-year-old actress called Woody Allen "empowering to women" in the wake of Allen's son's op-ed alleging sexual abuse; and on Tuesday night, she posted a photo of her frontside juxtaposed with her backside to Instagram, captioned "LA face with an Oakland booty." 
Lively's words are not, erm, sitting well with many people.
As Jezebel noted, "LA face with Oakland booty" is a lyric from Sir Mix-a-Lot's "Baby Got Back," in which the rapper references Oakland, the Californian city which is 31% black and African-American. Los Angeles, by contrast, is overwhelmingly nonblack. Some, like Jezebel's J.E. Reich, said the actress was being "passively racist."
Many on Twitter agree that Lively screwed up with her choice of caption. Others seem to think that to call the lyric's use racism is a perfect example of the media's "click thirst." 
But thirst aside, this isn't the first time Lively has come off as racially insensitive. Remember when her (now offline) lifestyle site Preserve ran that letter romanticizing the antebellum-era South? In borrowing this particular lyric from Sir Mix-a-Lot, Lively is appropriating a past that doesn't belong to her, as Gaby Wilson explained on Twitter.  
Lively's body is still accepted as the norm, or the ideal, and for that reason, some feel her comment smacks of casual racism and/or carelessness.
Damn.
Read more: Azealia Banks Pens Essay on White Supremacy, Zayn Malik and Skai Jackson