Donald Trump Supporters Who Beat Homeless Latino Man Sentenced to Years in Prison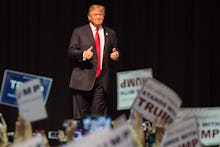 Two Boston brothers accused of beating a homeless man in an attack inspired by presumptive Republican presidential nominee Donald Trump have been sentenced to multiple years in jail,  Reuters reported.
Scott Leader, 38, and his 30-year-old younger brother Steve, pleaded guilty to beating 58-year-old Guillermo Rodriguez on Aug. 19, 2015, because they thought he was an illegal immigrant. After the attack, police said Scott Leader explained the beating by saying "Donald Trump was right, all these illegals need to be deported."
For the crimes of "causing bodily injury while committing a civil rights violation, as well as assault and battery with a dangerous weapon," Reuters reported, the elder Leader got three years in prison while the younger received one and a half. Both may also be subject to probation.
In a statement released through Suffolk County Assistant District Attorney Nicole Rimar to Reuters, Rodriguez emphasized he was a permanent resident of the country.
"I came to this country many years ago and worked hard in the farm fields to provide produce to people here," Rodriguez said. "I actually became a permanent resident of this country years ago, although if I had been undocumented I still would not have deserved to be beaten this way."
Following the assault, Trump initially said it would be a "shame" if his rhetoric on immigration led to the beating, but added "I will say that people who are following me are very passionate. They love this country and they want this country to be great again. They are passionate."
But several days later, Trump did condemn the attack and said he would "never condone violence.
"This unprovoked attack on a sleeping man disgusted every prosecutor, victim advocate, and trooper who worked on it," Suffolk County District Attorney Daniel F. Conley told CNN. "State prison was the only appropriate sentence."
Read more: The Donald Trump Supporter Who Sucker-Punched a Black Man Later Threatened to Kill Him