With the Rentberry App, Silicon Valley Invented Another Way to Drive Out the Working Class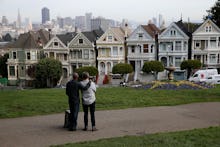 Across the country, gentrification is spreading rapidly through our cities, displacing the poor. Now, those cities have the last thing they need to fight their house crises — an app that throws desperate rent-seekers into direct war, where only the richest survive.
Rentberry, an app that launched in San Francisco Tuesday morning, is a platform for homeowners and realtors to put a house on the market. Then desperate apartment-seekers engage in an open bidding war so that landlords can squeeze as much cash out of prospective renters as possible.
"We strive to maximize your rental price by allowing tenants to submit custom offers and compete in the bidding process," Rentberry advertises on its site.
The language of "maximizing" rental prices is a glaring red flag for San Franciscans, who have endured one of the country's most dramatic gentrification crises. A recent influx of upper-middle class programmers, techies and entrepreneurs chasing the venture capital-fueled startup boom has put hundreds of census tracts in San Francisco at risk of displacing its poorest residents.
Rentberry CEO Alex Lubinsky says his startup could help the markets. After all, as he told Mic over the phone, housing prices in San Francisco are down these days!
Rentberry's fee structure was reported by SFGate as a big royalty from each month's rent, but Lubinsky says the only fees to use the platform are $25 per successful application.
"What we do is help tenants actually save money, not to bid or overbid," Lubinsky said in a phone interview. "Bidding implies you can only increase the price, but that definition [of bidding] is just wrong — there's a submission tool where you can submit a lower offer. We're actually saving tenants money."
Like the price warring between Uber and Lyft, or Amazon versus book publishers, this app uses technology to bring competing players in a market closer together and put them in direct, immediate and transparent competition. 
But unlike bargain books or a cheap ride, it's not the industry and its workers being squeezed. It's the renter, reduced to a few numerical values — a credit score, an income, an offer — who is pitted against others looking for a home, squeezed for every dollar they're willing to part with.
May 17, 2016, 4:18 p.m.: This story has been updated with comment from Rentberry.