Obamacare Just Made History for the Best Possible Reason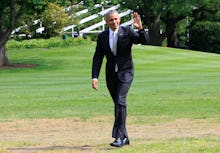 Large swaths of the public are deeply discontent with Barack Obama's health care law, but the policy is steadily succeeding at achieving one of its foremost goals: expanding coverage. According to Vox's analysis of new data from the Centers for Disease Control and Prevention, 2015 marked the first year that more than 90% of Americans had health coverage.
"In 2015, 9.1% of people lacked health insurance — a 2.4 percentage point decrease from 2014," Vox noted. "That works out to 7.4 million fewer people lacking coverage."
The CDC report shows that the share of uninsured Americans has been on the decline since 2010, when the law was first passed and protections for people with pre-existing conditions went into effect almost immediately. But the number has dropped dramatically since the Affordable Care Act's health insurance marketplaces and Medicaid expansion began to roll out.
Read more: One Chart Shows Bernie Sanders' Health Care Plan Is the Most Popular in the Race
If you take a careful look at the lavender line in the chart below, you can see the the uninsured rate takes a plunge after 2013 — right around when millions of people began to be able to take advantage of the ACA's new insurance offerings.
The ACA is making significant progress in expanding access to insurance, and is likely to continue to do so, but it still faces tremendous criticism from people across the political spectrum. A Gallup poll published Monday found that more Americans favor the idea of replacing the the ACA with a publicly-funded health care system or simply repealing it to be more desirable than keeping it in place.
Dissatisfaction with the ACA is mainly due to the fact that actual affordability of care continues to be a serious issue. Rising premiums and astronomical deductibles render coverage all but useless for some lower-income segments of the population. The ACA and its defenders still have plenty of work to do to ensure that millions of people are more than insured in name only.
h/t Vox