Here's Why the Disco Beat Goes On (and On) in New York City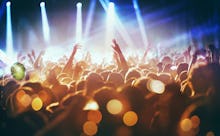 Nelson "Paradise" Roman reaches over his controller to grab another CD from a disorderly pile. The CDs are minimally labeled — a few words scribbled in black Sharpee, denoting the track's mix, artist or producer. Roman slides the disc into the player and barely glances at the knobs he turns as he continues chatting with a couple of dancers taking a break.
After almost 40 years of DJing, he knows where the controls need to be. He knows where his crowd is and what he needs to play to keep them happy.
Roman has been DJing at DanceSport Studio's Monday Night Fever hustle dance party for the past 15 years, but he's been spinning disco long before that. He started in 1976, when disco defined New York City nightlife and dance culture for decades to come. You can still find vital remnants of that era today around the city, from the Monday-night hustles at DanceSport to the sparkling lights at Brooklyn's Verboten.
On a Saturday night in the city, disco lives on in Brooklyn and corners of Manhattan. You can find roller discos at Dreamland Roller Rink in Brooklyn's Prospect Park, or track down the next Tiki Disco pop-up event that surfaces regularly around Brooklyn.
If you want to dance like it's your wedding night to disco classics under a glittering mirror ball, stop by Beauty Bar in Manhattan's East Village. Disco is inextricably linked to the way we imagine nightlife around the world, but its impact we see today — in dance culture, club décor and the beats behind top 40 music — leads right back to its birth in New York City.
Don't Call It a Comeback. You can't really say this is a "revival" because disco never really went away. Despite a rock-establishment backlash that even inspired a Disco Demolition Night, in which a crate of disco LPs was blown up on the field of Chicago's Comiskey Park in 1979, disco music and culture has endured. It evolved into house music in the '80s and '90s and today's electronic dance music (EDM) while still retaining some of its retro qualities.
"Disco is a really important part of our music history, so it's hard to escape it in today's music," said DJ Danny Kimit, who started spinning in the early '70s at his parents' Greenwich Village Club and points to the persistence of disco's signature four-on-the-floor beat in such recent songs as Daft Punk's "Get Lucky" and Mark Ronson's "Uptown Funk." Other artists are fully embracing disco sound and culture by making it their primary identity, including New York-based Escort, whose latest hit song, "My Life," fully channels the disco era.
"It's really in your face as far as shortcuts that people take with producing," Kimit said. "Just sampling a disco record — that sample is the quality of the record...it has an arrangement, a production, musicians, a level that people aren't affording to do these days, even in this little loop sample."
"You are up for hours with the sound." Photographer Bill Bernstein bore witness to disco's glittery emergence when he began photographing legendary nightclub Studio 54 on assignment for the Village Voice. He compiled his work photographing disco clubs from 1977 to 1979 in a book, Disco, published last year. Reminiscing about those days in a phone interview, Bernstein described a familiar scene that looks much the same as the clubs in 2016.
"It's the repetition of the pounding beat," he said. "The boom, boom, boom on the floor, and the mixing of the sounds that creates one song [and] turns into another song. The music never lets up. It's constant, all night long. So you never get a break from it. You never come down. You are up for hours with the sound."
You can find people searching for that groove on the third floor of Stage 48, a club on Manhattan's west side, where a group of people form two unruly lines in front of a check-in counter. At the front of the line, two people hand out oversized headphones with glowing earmuffs and explain how to switch between channels. In the adjoining room, three DJs line the front of the stage to a packed room of people dancing intensely, yet no music can be heard. The headphones glow blue, green or red, depending on which DJ they're tuned to.
Silent discos, also known as quiet clubs, became popular in Europe in the early 2000s and later made their way to the U.S. Will Petz, CEO of Quiet Events, says there's something about hearing the music in your head that can free you from inhibitions.
"When you put the headphones on, you kind of let yourself go," Petz said in a phone interview. "You feel the 'in the shower' mentality. I don't care. I'm gonna sing. I'm gonna dance. I feel like no one is watching me. You feel like you're part of a group, a team. You kind of feel like you're the 'in crowd.'"
Petz started Quiet Events out of New York four years ago after going to a silent disco while on a trip out of town. Now, his company is doing about three or four parties a week across the country. He says he thinks they will probably do about 300 parties in New York City alone this year.
Although Petz changed the name of his events from silent discos to quiet clubbing, the music still has that disco beat. Trained as a Latin dancer himself, he considers the hustle to be perfect for any modern dance beat.
"You'll go to a club now and, within a half an hour, you'll find something you can dance hustle to," he said. "You can dance hustle to EDM music."
"We just want to dance and move and groove." Bernstein, the photographer, sees that same continuity from disco to current dance music. "The EDM stuff you hear in clubs today, it's really the house music which evolved directly from disco music," he said. "That's the evolution of music today, from New York to Chicago to the world."
Lots of current dance venues continue to offer the flashy, hallucinatory feel of classic disco-era clubs. From the '80s themed Pyramid Club on Avenue A, to the nightclub Verboten in Brooklyn's Williamsburg neighborhood, known for its complex lightshow and array of mirrored balls.
George Gayl, whose company Silent Storm produces similar headphone-driven dance parties, credits disco for "really propelling the clubbing culture."
"The music has evolved," Gayl said in an interview. "But at the core of it, we just want to dance and move and groove and enjoy loud music that either makes us feel or think or move and experience that in a setting that's entertaining with the people we love."