Drake Just Dethroned Justin Bieber With This Music Streaming Milestone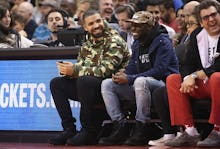 Drake's path to success can best be described by his own lyrics: Started from the bottom now we're here.
The famously sensitive Canadian rapper has won a number of accolades for his work, including a Grammy in 2012 for album Take Care and an iHeartRadio Music award for hip-hop song of the year for 2015's hit "Hotline Bling." Now, Drake has another feather to add to his cap — and he bested Justin Bieber to get it.
Drake has clinched Spotify's most streamed artist of all time title, according to Kworb.net, with about 3.19 billion plays — about 10 million more than the Biebs. 
In the No. 3 spot is singer-songwriter Ed Sheeran, with 2.15 billion listens.
Drake got more than a little help from his latest album Views, which the artist first released exclusively with Apple before making it available on Spotify for streaming on Friday. HotNewHipHop.com reported that the streams from "Hotline Bling" counted toward Views sales, which could help the album go platinum. 
There, there, Drake. Nothing to be sad about. 
Read more: As Fans Celebrate 'Views From the 6,' Here's How the Rapper Became Famous