4 Commencement Speakers Who Actually Told Grads What They Need to Hear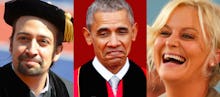 There are commencement speeches. And then there are Commencement Speeches — the ones so staggeringly beautiful, they go viral (or in some cases, get turned into a weird pop song).
These are some of the most memorable in recent years:
Steve Jobs: Stanford University, 2005
When Apple co-founder Steve Jobs died in 2011, his 2005 Stanford commencement speech went viral, with publications dissecting its every line.
Your work is going to fill a large part of your life, and the only way to be truly satisfied is to do what you believe is great work. And the only way to do great work is to love what you do. If you haven't found it yet, keep looking. Don't settle. As with all matters of the heart, you'll know when you find it.
Amy Poehler: Harvard University, 2011
Poehler leaned heavily on her comedy chops when addressing the Crimson Class of 2011.
All I can tell you today is what I have learned. What I have discovered as a person in this world. And that is this: You can't do it alone. As you navigate through the rest of your life, be open to collaboration. Other people and other people's ideas are often better than your own. Find a group of people who challenge and inspire you, spend a lot of time with them, and it will change your life. No one is here today because they did it on their own. Okay, maybe Josh, but he's just a straight up weirdo.
President Barack Obama: Howard University, 2016
Grads of the historically black university in Washington, D.C., scored big as the recipients of one of Obama's last commencement speeches while in office.
I want you to have passion. You have to have a strategy. Not just awareness, but action. Not just hashtags, but votes. To bring about structural change, lasting change, awareness is not enough. It requires changes in law, changes in custom.
Lin-Manuel Miranda: University of Pennsylvania, 2016
"Your stories are essential," Lin-Manuel Miranda, the Pulitzer Prize-winning creator of the critically acclaimed Broadway musical Hamilton, told this year's graduates at the University of Pennsylvania.
Don't believe me? In a year when politicians traffic in anti-immigrant rhetoric, there is a Broadway musical reminding us that a broke, orphan immigrant from the West Indies built our financial system.
Correction: May 17, 2016