6 Simple Tips to Make Your Relationship Better — No Matter How Far Along in It You Are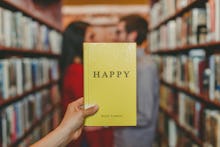 Relationships are like cars, your body, your kitchen appliances — really, anything you want to make last: They require maintenance. 
And that maintenance can be hard work: Even the happiest relationships demand — and are usually the byproduct — of consistent effort and attention. 
But just because it's work doesn't mean it has to be a chore.   
Here are six easy ways to improve your relationship, whether you're still in the honeymoon period or can't remember when your honeymoon was.
1. Have the same bedtime. 
Pillow talk is important — just ask Zayn. For couples who live starkly separate lives (for example, with respectively demanding jobs) going to sleep together can be what you needed to spend time together — privately and intimately. 
"Bedtime might be the only opportunity you're alone together all day," Barton Goldsmith, psychotherapist and author of The Happy Couple: How to Make Happiness a Habit One Little Loving Thing at a Time, told Time.
For most people who don't go to bed at the same, this should be a relatively easy schedule change. Irrespective of whether you are physically ready to pass out at the same hour, snuggling your partner to sleep certainly won't do you any harm. 
It also sets up a whole new range of opportunities for spooning to turn into some unplanned forking. 
2. Don't take your partner for granted.
It's the little things. Whether it's getting them breakfast before work or ironing a shirt for them, small, generous gestures add up. In turn, express gratitude for those small gestures. 
Sara Algoe, social psychology professor at University of North Carolina at Chapel Hill, has spent considerable time examining the impact expressions of gratitude have on romantic relationships.
Based off her research, Algoe "suggests that one partner's expression of gratitude reminds the other partner that he or she is a good relationship companion," Science Daily notes. 
3. Have independent lives and invest in your friendships.
We've all seen — or maybe even been in — those codependent relationships. Emotional vacuums, which suck you in and make you neglectful of your other obligations and other people in your life. Depending exclusively on one another can generate too many expectations and demands, while exhausting both parties. 
"The way to strengthen a marriage ... is to put fewer emotional demands on spouses. This doesn't mean losing emotional intimacy with your husband or wife," Tara Parker-Pope writes in her book For Better: How the Surprising Science of Happy Couples Can Help Your Marriage Succeed. 
"It just means that married couples have a lot to gain by fostering their relationships with family members and friends. The happiest couples ... are those who have interests and support 'beyond the twosome."
4. Leave each other notes.
It's adorbs. And kind of gross. But also adorbs. 
It's also really easy. Leaving for a few days? Tuck a couple of notes away in their sock drawer and medicine cabinet. 
It goes a long way in letting the other person know you're thinking about them and shows forethought, which makes everyone feel the warm and fuzzies. 
5. Make the bed.
An easy, thoughtful task that'll take five minutes out of your day but give you so much more in return. Whether you don't live together and you've spent the night at their place or you cohabit a space, making the bed is a nice gesture. It indicates you care and falls into the earlier category of making small, kind gestures, reminding your partner you don't take them for granted. 
6. Cuddle.
Duh. 
Numerous studies have revealed that those couples more likely to cuddle are more likely to be happy. 
"One of the most important differences [between happy and unhappy couples] involved touching," Richard Wiseman, University of Hertfordshire psychologist, told the Telegraph of one such study he led. "Ninety-four percent of couples who spent the night in contact with one another were happy with their relationship, compared to just 68% of those that didn't touch."
Cuddling has also been found to reduce anxiety, improve quality of sleep, boost your immune system and release neurotransmitters (like dopamine), which make us happy. And the happier we are in general, the happier we are in our relationships. It's a no-brainer.