16 Graduation Caps From Black Students That Will Make You Proud, Laugh and SMH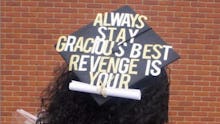 It's commencement season and grads everywhere are capping off their college careers with one last hurrah — a witty message on their mortarboards.
Everyone is doing it, but the cardboard squares on the hats of black alums have featured some of the funniest, most thoughtful and hell-yeah-that's-right statements.
Here's a look at the best grad-cap slogans from black students across the country:
1. She's in formation — with her degree.
2. She kept her head in dem books.
"The only D I got is my degree."
3. A black man's success should be on display.
On Instagram, @frank.lenny writes: "I'll never forget one of my first college memories of my school describing all criminal activity as 'black male.' It's easy to marginalize us but what about our success? Can those be put on display? #TempleGraduation"
4. "This degree isn't just for me, it's for us #mypeople"
5. For all the natural-hair queens out there!
6. See that degree though.
7. Crossing the stage and remembering that black lives matter
8. A nod to DJ Khaled
9. Name it and claim it, future doctor.
10. Thanks for the real-talk, O.T. Genasis.
11. When you realize that student-loan grace period only lasts so long.
12. And then Cardi B. rubs it in a bit.
13. Overcoming obstacles in and out of the classroom
14. When it's never too late.
15. More wise words from Beyoncé
16. As for the Class of 2017? Your day is coming sooner than you think.
Read more: Latino Scholars Are Celebrating Commencement With the Most Amazing Graduation Caps