365 by Whole Foods' Salad Bar Will Cost a Lot Less, Thanks to This Ingenious Change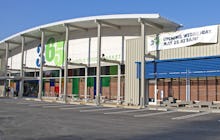 The very first 365 by Whole Foods opened on Wednesday in Los Angeles, and shoppers' salad bar games will arguably never be the same. 
Whole Foods regulars are used to shelling out an arm and a leg when hitting up the salad bar for quinoa salads, roasted veggies and other hot entrees that are priced by weight. Deciding what to eat based on weight makes for some tough compromising — does one splurge on a piece of salmon or settle for the leftover dust of an almond? 
But frugal shoppers will be thrilled when they lay eyes on 365 by Whole Foods' hot and cold bar. Instead charging customers for prepared food by the pound, 365 by Whole Foods offers a flat fee for each container size. A small (8 ounces)  is $5.50, a medium (16 ounces) is $7.50 and a large (24 ounces) is $9.50, a Whole Foods representative confirmed in an email.
In other words, you won't have to cough up more dough for heavier salad toppings or weighty items like fried chicken. Booyah. Your move, grocery stores everywhere. 
According to the press release, grab-and-go highlights include cold and hot items with rotating entrees like bibimbap and kimchee fried rice, chicken verde enchiladas and schichimi togorashi brussels — roasted sprouts with a nutty and sweet Asian spice blend. 
What else does this 28,000-square-foot store have to offer? There's a coffee bar, a self-serve tea station to create customized tea blends and vegan fast-casual restaurant by Chloe right in the store. 
Most of the country will have to wait patiently for this magical foodie wonderland, but rest assured, more stores are coming. In 2016, two more stores will open in Lake Oswego, Oregon, and Bellevue, Washington, and 10 additional locations are planned for 2017, Whole Foods said.