Constance Wu Stars in A-List Films in This Hashtag Campaign Against Hollywood Whitewashing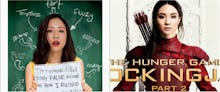 After hashtag campaign #StarringJohnCho reimagined Hollywood films with Star Trek actor John Cho in the lead role, Fresh Off the Boat actress Constance Wu received the same treatment on Twitter. 
Fans of the Taiwanese-American actress altered movie posters from some of Hollywood's most iconic female-led films to include Wu's face, rather than, say, Emma Stone or Jennifer Lawrence. #StarringConstanceWu was born. 
But why just replace one actor in a film with Wu or Cho when you can place them both in a film?
Or, even better, write a new one that features the pair.
Wu has addressed Hollywood whitewashing before. After reports surfaced that Scarlett Johansson was almost digitally altered to look Asian in Ghost in the Shell, Wu spoke about the importance of respecting Asian culture. 
Wu said that the use of CGI "reduces our race and our ethnicity down to mere physical appearance" and that Asian culture is "so much deeper than how we friggin' look."   
BuzzFeed, who captured Wu's remarks, also quoted her as saying: "I don't think it is bad for [directors] to be challenged to think outside their boxes. ... I don't think it will reduce their work for them to think, 'What if I cast this person as a Latina?'"
Any film would benefit from having an award-nominated actress like Wu as its star. And Wu herself seems to approve of #StarringConstanceWu. 
Hollywood's next step seems simple: Give Wu a call.