Officer's Repeated Sexual Assaults on a Female Inmate Were Ignored, Lawsuit Alleges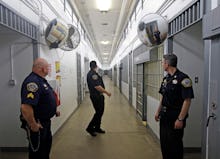 Carole Crane's one-month sentence at the Butte County jail could have been a brief stint in her life, a learning experience even. But the alleged sexual torment she says she experienced there, as well as the blind eye officials allegedly turned, will follow her forever.
Now, Crane is seeking damages for the California correctional facility's alleged failure to address any wrongdoings against her or to take preventative action against sexual harassment against inmates. Crane's lawsuit alleges the repeated assaults from Butte County correctional officer Timothy Hill began immediately upon being booked into the jail, Broadly reported. 
The lawsuit states that after the officer brought her from the booking center to a holding cell, "She was again awoken by Hill, who had fully exposed his erect penis and was holding it near [her] face. Hill ordered [Crane] to touch his penis. [She] recoiled from him. Hill ordered [her] not to move any further because of security cameras in the area. Hill left and, after several minutes had passed, returned to the cell. Hill took [her] hand and placed it on his erect penis. [She] again pulled away from him. Hill then left the area." 
Crane's suit also alleges she was tricked into believing she had visitors, when instead Hill was about to sexually assault her. The officer allegedly grabbed for her breasts underneath her jail suit and began fondling them before putting his fingers in her vagina despite her attempts to make him stop. "To [Crane], this course of conduct seemed to go on forever," the suit continues. 
Hill, who has repeatedly been accused of sexually violating female inmates as a correctional officer, has since taken a plea deal in Crane's 2014 case: He was criminally charged with sexual battery, sexual activity with a detainee in a detention facility and indecent exposure. He then entered a plea deal and confessed to "sexual activity with a detainee in a detention facility." The correctional officer could serve a maximum of only six months in jail for the charge, according to Broadly.
Hills no longer works at Butte County jail. Crane believes the offenses against inmates could still continue, however, as several officials who were noted in her suit who allegedly turned a blind eye to her suffering still work for the facility — including the overseer of the jail, Butte County sheriff Kory Honea, according to Broadly.
Read more: Family Sues Jail For Death Of Man With Mental Illness