This egnius 10-year-old just schooled the entire world on body positivity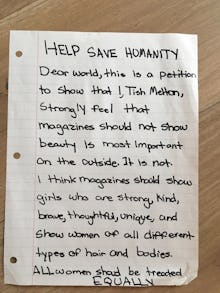 The fashion world is still trying to figure this whole "body positivity" thing out. On runways, an overwhelming majority of models are still a size 0 or 2. In ad campaigns, it's much of the same. On magazine covers, there are nearly identical bodies over and over and over again, from publications like Women's Health to Cosmopolitan. 
But now, naturally, a 10-year-old girl is here to, as she puts it, "save humanity."
In a blog post on the parenting blog Momastery, titled "Pe-Tish-Ion," which the Huffington Post also shared, mom, author and Momastery founder Glennon Doyle Melton described how she came to find out that her daughter truly has the entire world figured out. 
Read more: New Selfridges Campaign Brings True Body Positivity to Lingerie
A few days ago, Melton's daughter, Tish, asked her,  "Mama, the other girls are all skinny. Why am I different?" 
For Melton, this is one of those questions, much like "Where do babies come from?" that can elicit panic. If she says the wrong thing, will her daughter's self-esteem be ruined? Will her daughter be forever tormented by body expectations? For Melton, there was even more pressure because, as she writes, "Ten is when I decided there was something wrong with me and became bulimic." 
So, after a quick meeting with her husband, Melton ensured Tish that what she was feeling was simply in response to all the mixed messages she sees on things like magazine covers and the pressure particularly on young women to meld themselves to an ideal. 
"We talked about all the messages girls get about staying small and quiet and competitive and how that's all horseshit meant to keep girls weak and separate from each other, so we can't join forces and lead," Melton writes. "We talked about how hard and wonderful it is to have a body, and we talked about what, exactly, bodies are for. I did my best." 
And it was Melton's "best" that motivated her daughter to write a petition. 
After visiting a bookstore and seeing a wall of magazines with women of similar body types on the cover, Melton asked her daughter, "Tish, what do you think women's bodies are for?" and Tish responded, "Writing, running, hugging."
And then, 10-year-old Tish wrote this petition. "HELP SAVE HUMANITY" it reads across the top. 
Dear world, this is a petition to show that I, Tish Melton, strongly feel that magazines should not show beauty is most important on the outside. It is not. I think magazines should show girls who are strong, kind, brave, thoughtful, unique, and show women of all different types of hair and bodies. ALL women should be treated EQUALLY.
(Someone please get this young woman a book deal.) 
On the flip side of the petition, she got her entire family to co-sign. 
A declaration of body positivity and diversity, if you will. 
So, magazines, you listening? Tish has something to show you.