Blac Chyna Shuts Down Baby Weight Haters, Demands "Respeck on My Name"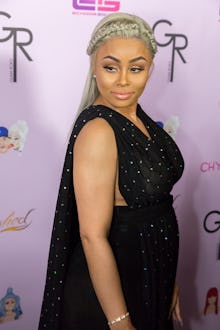 Blac Chyna wants "respeck" on her name, dammit — but is that name still Blac Chyna, or is it Angela Kardashian? The model and fiancée to Rob Kardashian (who's built an empire entirely of her own, thank you very much) blasted commenters of an Instagram celebrity news account who critiqued this photo in which her baby bump is visible — because really?!
"To all you people out here with negative comments and insecure words (obviously because you have nothing else to do but criticize the next) I am having a baby! Exactly what do you expect to see?" Blac Chyna wrote. "If I walked out in makeup and heels every day to be beautiful to your means I would be miserable and unhappy which are two vibes I refuse to transfer to my little one."
Despite the baby in her bun, Blac Chyna has quite a bit to look forward to in 2016: She's engaged (and seems to have settled all remaining beefs with his family), might be starring in a Keeping Up With the Kardashians spinoff and has her hands (or lashes, rather) in a number of entrepreneurial endeavors. 
But the future of mother of two just proved to be a boss at yet another feat: a good-old fashioned roast:
"If I comment on y'all pics and go in on them tired ass weaves or unblended ass contours I'll be wrong right?" she continued. "It'll be tragic! so stop playing and put some respeck on my name."
We can only hope she'll continue to be as badass post-pregnancy. 
Read more: 5 Female Celebrities Who Took a Powerful Stand for Their Post-Pregnancy Bodies