Lin-Manuel Miranda Reminds Donald Trump Why America Needs Immigrants, in One Epic Quote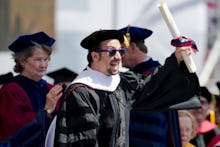 "Hamilton" creator Lin-Manual Miranda dropped the mic during his University of Pennsylvania commencement speech Monday.
Miranda took the opportunity to slam Capitol Hill and anti-immigrant rhetoric espoused by politicians like GOP presumptive presidential nominee Donald Trump.
"In a year where politicians traffic in anti-immigrant rhetoric, there is also a Broadway musical reminding us that a broke, orphan immigrant from the West Indies built our financial system, a story that reminds us that since the beginning of the great unfinished symphony that is our American experiment, time and time again, immigrants get the job done," Miranda said. 
The writer and artist no doubt is referring to politicians like Trump, who has justified closing the border with Mexico because they send "drugs," "crimes" and "rapists," and proposed a ban on Muslims entering the country, saying "I think Islam hates us."
America's political system, Miranda also said in his speech, is broken. 
"Look at D.C.," Miranda added. "It's synonymous with institutional dysfunction, partisan infighting and political gridlock."
The Hamilton star's comments are timely, as the presidential campaign season ramps up. The success of populist candidates like Bernie Sanders and Trump indicate a national frustration with the establishment, perhaps, as Miranda suggests, because of its "dysfunction."