Is Justin Bieber Channeling Ryan Gosling's Character in 'The Place Beyond the Pines'?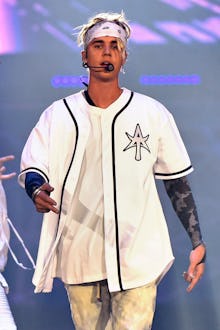 Justin Bieber may have a new style muse: Ryan Gosling à la his 2012 indie movie The Place Beyond the Pines. On Tuesday, Bieber randomly posted two Instagram movie stills of Gosling, both captioned with, "What a beast." 
As one may notice, the images of Gosling resemble the new look Bieber has been taking on lately — i.e., the bleached hair, that now-notorious face tattoo and all of that purposely tattered clothing.
In the first photo, a heavily tattooed Gosling is casually hanging out by his motorcycle, and in the second, Gosling is sitting on a stoop and feeding his character's child. In the movie, Gosling plays Luke, a bad boy trope who has a motorcycle, newborn baby and knack for robbing banks to support said baby. 
So when those close to the Biebs claim that his new aesthetic is a result of finding God, do they really just mean Gosling?
While paint-splattered jeans may very well be in Bieber's future, hopefully that also means that those controversial dreadlocks are gone for good. 
The likeness between Bieber's recent look and Gosling's character wasn't lost on Twitter users. User @codyckennedy tweeted that the two were "interchangeable;" @GrayKal said Bieber was "stealing" Gosling's look.