Ecuador Was Just Hit With a 6.7 Magnitude Earthquake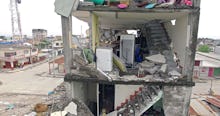 Early Wednesday morning, a 6.7 magnitude earthquake struck Ecuador, just one month after the South American country suffered an earthquake at magnitude 7.8, killing hundreds and injuring thousands more.
According to CBS News, the earthquake's epicenter was just outside the coastal town of Muisne in Ecuador's northwest and occurred 18 miles underground. Following a briefing with disaster relief officials, President Rafael Correa said they were not issuing a tsunami alert.
On his Twitter account, Correa wrote, "Sections of Manabí and Esmeraldas are partially without power, but are recovering," and earlier he cited only "small material damages," saying everything had settled down. 
Read more: Earthquake in Japan Kills at Least 32, Floods Fukuoka Streets With Strange Foam
April's quake was the worst to hit Ecuador in decades, damaging some 10,000 buildings, destroying about 560 schools and leaving a path of destruction for hundreds of miles. Correa declared the natural disaster a national emergency and since then, organizations like UNICEF have chipped in to provide food, water and shelter to those displaced by the earthquake.