George Zimmerman Just Taunted Trayvon Martin's Parents for Raising the Son He Killed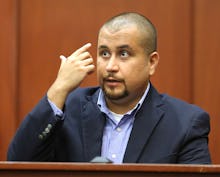 In an interview with the Daily Beast, George Zimmerman, who was found not guilty in 2013 for the murder of 17-year-old Trayvon Martin, blamed Martin's parents for their son's death.
"They didn't raise their son right," he told the outlet. "He attacked a complete stranger and attempted to kill him," referencing claims that Martin initiated the attack that drove Zimmerman to fatally shoot him.
"Sybrina Fulton and Tracy Martin did everything they could to capitalize on her son's death," Zimmerman continued. "She was never a mother figure to him. Tracy Martin couldn't have cared less about their son. He treated him like a dog without a leash."
Since his acquittal, Zimmerman has gotten into trouble for allegedly punching his then-wife's father, faced accusations of road rage and was arrested for aggravated assault and domestic violence after allegedly throwing a wine bottle at his girlfriend.
On Thursday, Zimmerman made headlines when he announced he would be auctioning off the gun he used to kill Martin on the website GunBroker.com. He called the firearm a "piece of American history" and wrote that he had used it to defend his life and "end the brutal attack from Trayvon Martin."
Though it seems Zimmerman is the one who can't keep himself out of the public eye, he told the Daily Beast it's the Fulton and Martin families who robbed him of a "normal" life.
"If I have to live my life and if I have to go about my business as a normal person, then I would do that," Zimmerman said. "However, I'm not afforded that luxury anymore. You guys. The media. The masses. The Fulton-Martin family. They took that from me."
Read more: Police Union: Tamir Rice's Family Should Teach Other Kids How Not to Get Killed