'Black Panther' Director Ryan Coogler Nails Why Hollywood Needs Women Behind the Camera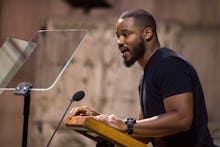 Ryan Coogler, director of Creed, Fruitvale Station and the upcoming Black Panther, has some strong words about why Hollywood needs more women behind the camera. His isn't an argument for representation, or about how more women off-camera means more women on-camera.
His is a simple argument: Women on set make movies better.
Read more: These 4 Charts Reveal Exactly How Terrible Hollywood's Diversity Problem Is
"You're absolutely missing something [in a room that's all men]," Coogler recently said in a Fast Company interview. "Too often, you find yourself in a room like that."
The key reason why Coogler works with women cinematographers, editors and more is because they bring insight that men cannot. 
"Everybody's a prisoner of their own perspective," he said. "I can only see the world through my own eyes. The last few times I made a movie, I had a cinematographer who was a woman. And my editors, one of them is a woman, and the way those two view things and give notes are radically different, and when you have that balance, it's really an asset."
The film industry is brutal for women of all professions, particularly those off-screen. For evidence, look no further than Hollywood's highest honor: Over 1,000 fewer women have received Oscar nominations since 2006, largely because of the dearth of them from technical fields. The few female cinematographers film employs can't even get recognized; the Oscars have never nominated a woman cinematographer — even just this year missing the opportunity to nominate Coogler's Creed director of photography Maryse Alberti.
So Coogler's eagerness to include women in his creative process — and understanding that they bring what he lacks — is vital. One can hope that other male directors will follow in his footsteps.