Food Trucks Are Essentially Germs on Wheels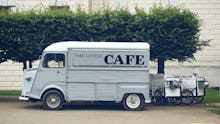 Chew on this, food truck aficionados: The trucks serving up trendy grub might be dirtier than one would like to think, the Los Angeles Times reported. 
Over the past two years, roughly 1 in 3 Los Angeles food trucks received grades lower than A from the LA County Department of Public Health. 
And even sidewalk food carts are outperforming food trucks when it comes to food safety. Around 18% of food carts got below an A grade. Meanwhile, fewer than five percent of brick-and-mortar restaurants earned under an A.  
In the past year, the health department has closed over 70 food trucks. After passing follow-up inspections, the trucks are allowed to reopen. 
What causes a less-than-perfect grade? The county's grading system assesses food providers' cleanliness and food-handling practices. Poor employee hygiene, inadequate food storage temperatures and contaminated equipment all could lead to food-borne illness and factor into an inspector's grading. 
Running a clean truck, poses unique challenges for owners and employees. The vehicles are cramped and often don't have the same equipment that a regular restaurant has, though James Dragan, LA's chief environmental health specialist for consultative services, told the LA Times that the health department has not yet studied the data. 
It's possible that some trucks roll on through without inspection. The health department requires that trucks clue inspectors in on their routes, but it can still be tough to conduct the random inspections. Inspectors only examined roughly 70% of food trucks in the last fiscal year. 
Wondering if it's safe to grab a bite from a vehicle that has a kitchen area smaller than the smallest Manhattan apartment kitchens? It's worth peeking at a truck's grade (if the city requires them — New York City, for example, appears to be working on it) before digging in.