2015 Was Actually One of the Safest Years on Record for Police Officers, Says FBI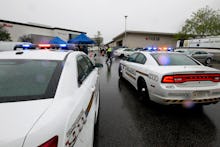 Despite grumblings about the "war on cops," statistics released on Monday from the FBI show that 2015 was one of the safer years on record for cops. 
In 2015, 41 officers were killed feloniously, rather than by accident, in the line of duty. This represents a 20% decrease from 2014, when 51 officers were killed. In 2013, 27 law enforcement officers were killed feloniously while on duty, the lowest number in a 35-year period. 
While the number of police officers killed on duty has fluctuated over the last four years, the recent counts are all lower than the average number of police officer deaths per year — 64 — from 1980 to 2014.
The job may be getting safer than ever. 
"The FBI statistics on police officer felonious deaths show that belief that the job is growing more dangerous, because of protests against police or because of the demand for reform to police practices, is simply wrong," University of Pittsburgh School of Law professor David Harris said to the Huffington Post. "Belief to the contrary may be sincere, but it has no basis in fact."
While 2015 was a safer year for police officers, the Washington Post also reports that police fatally shot 965 people that year. 
The majority of those shot fit into three categories: They wielded a weapon, had a mental illness or ran when officers asked them to stay in place.
It's not easy to pinpoint exactly why police officers' jobs are getting safer while nearly 1,000 people were killed by police last year. But police forces' use of SWAT teams, tank-like mine carriers and military-grade equipment might be a good place to start investigating.