Utah Sen. Todd Weiler Wants to Put Anti-Porn Filters on Your Cell Phone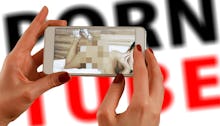 If you're trying to jerk off in the Beehive State, it may be time to brush up on your imaginative thinking skills.
Porn is being treated as a contagion in Utah — it was recently declared a "public health crisis" in the state, and now Republican Sen. Todd Weiler says he is drafting legislation that would require phone manufacturers to put porn-blocking filters on devices which could only be removed if the owner can verify they are over 18 years in age, local television station KSTU reported.
"Almost every kid in Utah is walking around with a smart phone, which is basically a vending machine for porn in a lot of respects," Weiler said, according to KSTU.
Another legislation Weiler is drafting would require public libraries to equip their devices with porn-blocking filters.
Weiler was one of the anti-porn advocates who sponsored the resolution declaring porn a public health crisis in April.
As it stands, there are free services parents can download to create a smut-free world wide web for their children, but Weiler told KSTU that this is a "backward" solution — parents shouldn't have to buy and install this software. It's important to note, though, they don't have to buy it. There are plenty of free options like Windows Live Family Safety 2011, Norton Online Family Premier's free tier, and the free edition of Qustodio v1.9, according to PC Magazine.
Weiler also said he expects pushback from phone manufacturers like Apple or Android. No shit.
But if Weiler wants to wipe out porn on the face of the web for minors, cell phones and library computers are just the tip. With more and more devices becoming touchpoints to the web — your phone, your tablet, your laptop, your TV, your watch, your virtual reality headset, your augmented reality headset, etc. — porn is going to be as accessible as ever.
Those opposed to Weiler's legislation believe the government shouldn't have the power to ban this content. It should be in the hands of the legal guardians.
"While no one wants children accessing adult material, these type of decisions need to be made by families and individuals, not the government," the Free Speech Coalition said in a statement, according to KSTU. "The fact of the matter is that filters like these cast a wide net, and end up blocking tons of non-adult material, such as LGBT news sites and information about sexual health and teen pregnancy."
These porn filters also don't just ban boinking bods — they also prevent minors from accessing sex ed inquiries, like searching for information on STDs, local free clinics or how to start a gay-straight alliance, according to Sex Etc., a site that would probably be blocked by an anti-porn filter.