The First of Nigerian Chibok Girls Kidnapped by Boko Haram Has Been Found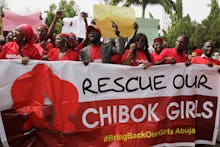 On April 14, 2014, 276 girls were kidnapped by the terrorist network Boko Haram in Chibok, Nigeria, while they were about to take a science exam. Some escaped, but 219 have remained in the hands of the extremist group for the last two years. 
On Tuesday, the first of those girls was found. Amina Ali Nkeki was near the Cameroon-Nigeria border, in the Sambisa Forest, when the Civilian Joint Task Force — a vigilante group with the ambition of combatting Boko Haram — discovered her.
Read more: Boko Haram's Chibok Girls Shown Alive in First Footage Since Kidnapping in 2014
Nkeki had a baby, believed to be the product of sexual slavery, and three, small children with her, Pogu Bitrus, a leading activist in the Bring Back Our Girls campaign to find and rescue the girls, told ABC News. 
Nkeki was discovered by the JTF by happenstance, while she was gathering firewood in the forest, Hosea Abana Tsambido, a Chibok community representative, told the BBC. 
"[Nkeki] was saying ... all the Chibok girls are still there in the Sambisa [Forest], except six of them that have already died," Tsambido explained.
Boko Haram is an extremist self-proclaimed Islamic group, which advocates for strict Muslim law and regards Nigeria's existing government as comprised of infidels. They have been orchestrating an insurgency in the region since 2009, attacking the Nigerian military and ordinary citizens. 
The organization is formally entitled "Jama'atu Ahlis Sunna Lidda'awati wal-Jihad," which, according to the BBC, translates from Arabic as "People Committed to the Propagation of the Prophet's Teachings and Jihad." They are vehemently against the Western world and any cultural or political influence. 
The kidnapping of the Chibok girls was one of their most high-profile attacks, grabbing headlines around the globe — yet despite international efforts, the girls have not been rescued.