This Girl Made Her Nose Dance to Rihanna's "Work" and the Internet Can't Get Enough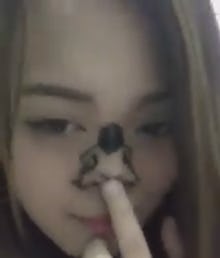 In a world where a woman smashing her face into bread and a hydraulic press crushing the shit out of things are huge viral hits, it's no wonder a dancing butt nose would also find instant internet fame.
A woman drew a butt on her face and then made it dance to Rihanna's hit song "Work."
Work work work work work work.
Click click click click click click.
The video, posted on Facebook by Rihanna Philippines, has already raked in over 31 million views at the time of writing, along with over 300,000 shares and over 200,000 comments.
"Shit her nose move better than half the girls who be posting twerk videos." one commenter wrote.
Let us all strive to learn learn learn learn learn learn to break it down as well as the dancing butt nose.