This Sweet Photo of a Deaf Whataburger Employee Is Going Viral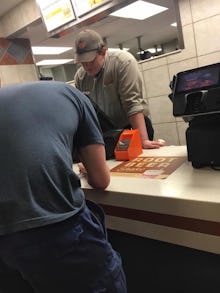 A photo of an employee at a Whataburger restaurant in Denton, Texas, is going viral after a local well-wisher uploaded it to Facebook.
Taylor Pope, a 20-year-old cashier at the restaurant who is deaf, may not be the next Alex from Target, but his valiant service to customers and their understanding of his disability was so moving to local bartender Kolbie Sanders that she was moved to celebrate him on social media, Fox4News reported. 
Read more: The Bizarre Thing Baffling Amazon Users About This Toy Fighter Jet
"I watched even after I placed my own order to see how everyone would react to him, to see if anyone would lose their temper with him taking extra long or get impatient because they were having to be hungry even longer, and I was surprised because not one person acted rude or impatient," Sanders wrote on Facebook. "Every customer complied with him and wrote down their orders without any complaints, just smiling back at him. ... This was eye-opening for me and I will never forget that moment."
Pope, who has worked at the burger restaurant for two years, said his condition limits his employment prospects in Texas. His mother told the station that she was overwhelmed by the support her son had received.
"It was the sweetest thing that I've ever seen," she said. 
For his part, Pope just wants others with disabilities to be treated fairly, telling the station he hopes this will "show all the people with disabilities to not be afraid about who they are."