Trump Made This Guy His New Energy Adviser — Kiss the Planet Goodbye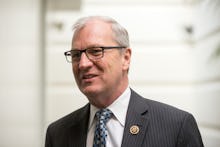 Because America hadn't already reserved box seats to the end of human civilization, '80s movie villain-turned-Republican hopeful Donald Trump just picked North Dakota Republican Rep. Kevin Cramer, an outspoken climate change "skeptic" and ardent supporter of fracking, as his new energy adviser. 
You can practically hear a flock of doves falling out of the sky.
Given Trump's own history of calling climate change an invention of "the Chinese," this appointment shouldn't be a huge surprise. But what should scare the shit out of anyone who cares about the planet is the sheer vehemence of Cramer's anti-environmentalism. As America gets closer than ever to a real-life Simpsons parody, here are the five things you should know about the man who'd roll out the red carpet for global warming to change life as we know it.
1. He's dangerously skeptical of climate change
In 2015, Cramer begged off a real answer when the subject of climate change came up. "I don't even participate in that 'climate-change-is-real, climate-change-isn't-real' debate," said the 55-year-old congressman. "It doesn't matter to me whether it's real or it isn't real." 
What does matter to him is vehemently opposing government efforts to fight climate change, like President Obama's Clean Power Plan, which would reduce carbon dioxide emissions 32% from 2005 levels by 2030. Cramer called the plan a "one-size-fits-all sledgehammer on the fossil fuel industry."
Cramer wants to replace the Clean Power Plan with a small carbon tax, called a "hands-off government approach" — an effort to loosen the constraints on the fossil fuel industry. Interesting, because fossil fuel companies are infamous for bucking against climate change regulations for profit.
2. He doesn't think America should have to help the rest of the planet
In practically the same breath as his statement about climate change, real or otherwise, Cramer also said he rejects "the notion that somehow the power sector in the United States of America is going to bear the burden and the responsibility for fixing the entire world."
As of 2013, according to the U.S. Energy Information Administration, the U.S. was the highest consumer of petroleum in the world and the second-highest consumer of coal and electricity — behind only China and far ahead of any other country. So when Cramer says the U.S. isn't responsible, he sounds like a roommate who fills the sink with dirty dishes, then pitches a hissy fit when asked to load someone else's fork in the dishwasher.
3. He thinks the U.S. Environmental Protection Agency is bogus
In 2012, Cramer took a jab at the Environmental Protection Agency for, in his eyes, using bogus science to describe climate change.
"These mandates and these wind farms are all based on this fraudulent science from the EPA, meaning their claim that CO2 is a pollutant and is causing global warming," he said in a radio interview. 
Carbon pollution is a strange thing to call out as "fraudulent." NASA agrees with the EPA's evidence that carbon dioxide accelerates climate change, and asserts in a scientific consensus that humans are almost definitely the cause.
Four years later, Cramer doubled down on his opposition to EPA policies:
4. He's pro-fossil fuels
Calling Cramer "pro oil and gas" doesn't really do Cramer justice. Oil and gas pay the guy's bills. That's like saying the guy who sold you your burger is "pro Five Guys." In the 2016 campaign season, Cramer has received $113,500 from the oil and gas industry. Of those, his top contributor this cycle is petroleum refinery company Tesoro, a company that released 1.6 million pounds of toxic chemicals in 2010.
5. He doesn't care about the National Park System
In 2015, he introduced a bill that would give the secretary of the interior the right to say whether or not natural gas pipelines could run through national parks — including Yosemite, Yellowstone and the Grand Canyon. 
He'd also make it easier for states to lease their federal lands, which include those parks, to develop any sort of energy resource they want. It leaves legislation open so any wildlife refuge, like the Arctic National Wildlife Refuge, could one day feature oil drilling facilities next to it.
If you wanted another reason to oppose a Trump presidency — besides the racism, discrimination and, hell, all this — here it is, burning a hole in the ozone layer.