Kourtney Kardashian Endorsed a 'Health' Food Product That's Actually Worth Trying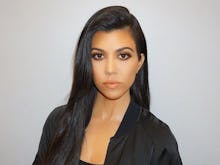 I'm usually pretty skeptical of any product the Kardashians — America's preeminent perpetuators of vocal fry — endorse.  Whether it's detoxing teas or gummy bear hair vitamins, the goodies they champion reek of sketchiness.
And yet, those Kardashians keep me curious. On a recent episode of Keeping Up With the Kardashians, Kourtney, a self-proclaimed health nut, purchased packs of Simply Gum, an "all-natural gum." And all-naturally, I had to try it.
While the term "natural" is basically meaningless when it's slapped on food products — there are no official guidelines from the Food and Drug Administration — the idea of a healthier gum is a little appealing. 
Gum isn't exactly a highly caloric food (most brands tend to keep counts under 15 calories per piece, Simply Gum is five calories per piece), but its label often reads like a science experiment, boasting upwards of 12 ingredients in one stick of the stuff.  
Conventional gum is made with polyvinyl acetate, which is a "form of plastic," Simply Gum founder Caron Proschan told the Wall Street Journal in April.  Wrigley's, for example, is composed from a "synthetic base," artificial sweeteners like sucralose and aspartame, along with preservatives and corn syrup. None of that sounds particularly natural, but it's the standard: Gum is artificial. 
The premise behind Simply Gum, which has just five to six ingredients, depending on flavor, is a little tough to chew on. Natural gum? Sounds like a hoax. Needless to say, expectations for a Kardashian-approved "clean" product were low. 
In any case, its ingredients list is much more attractive than its artificial counterpart: It's made with chicle, a natural latex sourced from a gum tree, organic rice flour, organic vegetable glycerin, natural flavors (Okay, a little hesitation here) and organic raw cane sugar. Probably most exciting, it comes in intriguing flavors like fennel licorice, ginger and maple. 
A pleasant surprise. Simply Gum doesn't deliver Big Red fakeness — which, hey, some people really enjoy. Instead, it offers a taste authentic to its package label. 
The mint flavor, for example, tastes like chewy mint leaves.  Maple is akin to licking your plate after eating through a stack of pancakes. The gum comes in a beautiful, Kinfolk-y packaging, eschews the standard form of sticks and candy-coated pieces and instead comes in brown pellets. 
Best of all, the gum remains soft after constant chewing and does not dry out into a flavorless rock. And for those interested, yes it's great for bubble blowing. 
While Simply Gum has a tougher texture upon first chew and a more subtle sweetness compared to conventional gum, big sister Kourt might actually be on to something. Sure, she's made a number of dubious food choices in recent years, like surgically dissecting a  Kit Kat and consuming a spoonful ghee (yes, clarified butter) every morning. 
Her gum preference, however, might be one to get behind. Simply Gum is, well, simply good.