Portugal Just Went 4 Straight Days Without Using Fossil Fuels — And So Can You!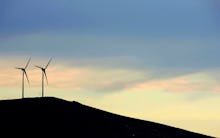 On May 7, government officials in Portugal turned off its power nationwide. But the outage didn't leave its citizens in the dark: For four days straight, all of Portugal's electricity needs were powered by renewable energy. Using solar and hydro power alone for 107 hours, the country set a clean energy record.
In 2015, 30.7% of the country's energy came from renewable sources, including 22.5% in wind power, according to Portugal's Association of Renewable Energy. 
"We are seeing trends like this spread across Europe — last year with Denmark and now in Portugal," Wind Europe trade association Oliver Joy told the Guardian. "The Iberian peninsula is a great resource for renewables and wind energy, not just for the region but for the whole of Europe."
Read more: Here's How Fossil Fuels Are Hurting the Environment and Why Renewable Energy Is the Answer
Scientists around the world are discovering new sources of renewable energy all the time and figuring out how to harness them. In April, Denmark company Wavestar developed technology to use the energy from ocean waves to power a generator, and earlier this year, French officials announced plans to pave a 620-mile road with solar cells. Recently, Germany achieved its own milestone when it used so much clean energy the country's energy prices went negative. 
So how does the United States stack up?
According to the U.S Energy Information Administration, in 2015 renewable energy accounted for just 13% of energy generation. U.S. officials might consider taking a page from Europe's book.
Such measures, said Joy, are within reach: "With the right policies in place, wind could meet a quarter of Europe's power needs in the next 15 years."