These Sri Lanka Flooding Photos Show the Devastating Effects the Landslides Have Had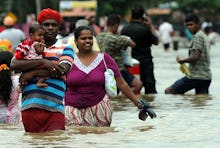 Dozens of Sri Lankan families are missing after three days of heavy rains triggered massive landslides along the countryside.
A military spokesperson said 36 lifeless bodies have already been pulled from the mud that buried the Siripura, Pallebage and Elagipitya villages, according to the Guardian and Reuters.
Rescuers continue to comb the country's remote Central Hills, searching for survivors.
According to CNN, rain in the town of Kilinochchi accumulated to 372 millimeters, or nearly 15 inches, in 24 hours, which is equivalent to a quarter of the rainfall the area usually experiences a year.
The Disaster Management Center in Colombo estimated 346,000 people have been affected by the floods in some way, CNN reported.
In a series of tweets, Sri Lanka Red Cross said survivors displaced by the landslides had been making their way to the makeshift relief camps set up around the country.
Weather forecasts predict the heavy rains that have disrupted the region will move to Tamil Nadu, a nearby Indian state, for the next two days, the Guardian and Reuters reported.
Read more: Another Terrorist Attack in Turkey Kills 5, Wounds Dozens