Mariah Carey Can't Find 1 Nice Thing to Say About Nicki Minaj and Still Doesn't Know J Lo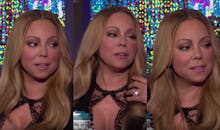 Mariah Carey proved she is still the queen of shade during Monday night's Watch What Happens Live with Andy Cohen, answering a series of tea-spilling questions with side-eye and sarcasm. 
When asked about her lingering feuds with Nicki Minaj and Jennifer Lopez, the songstress couldn't think of a single nice thing to say about either performer, instead offering her realest interview responses to date.
Here's Carey's reaction (and Cohen's awkward face) when asked if she could name three nice things about Minaj:
You can literally cut the tension with a knife. The megastar then reversed the question, asking Cohen if he could instead offer up any niceties about the rapper. Her reply when asked if she'd prefer to plead the fifth:
"You know, I always felt like with that situation to not plead the fifth but to just stay above the fray because you don't want to be de clasé, you just want to move it along."
And when it came to Lopez, Carey for the life of her could not recall who she was.
"That was so long ago, I can't believe people still make such a big deal out of it," Carey said of the infamous "I don't know her" comment. "You know what? I'm very forgetful. Apparently, I'm forgetful because I don't remember the fact it was just, 'Hi, I'm so-and-so,' and then move on."
Notice, Carey never mentioned Lopez by name once.
It was just the perfect amount of shade Carey's fan needed to get through their Monday night, and we can't say we didn't enjoy it while sipping our tea. Check out Carey's shadiest moments on Watch What Happens Live below:
Read more: Mariah Carey Just Explained What LGBTQ Truly Stands For at GLAAD Media Awards