Robin Wright Demanded Netflix Pay Her as Much as Kevin Spacey on 'House of Cards'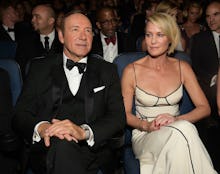 Speaking at the Rockefeller Foundation on Tuesday, Robin Wright — who plays first lady Claire Underwood on House of Cards — said she succeeded in getting Netflix to pay her the same as male lead Kevin Spacey. 
"I was like, 'I want to be paid the same as Kevin' ... It was the perfect paradigm," Wright said, according to the Telegraph. "There are very few films or TV shows where the male, the patriarch, and the matriarch are equal. And they are in House of Cards."
Wright also revealed her bargaining strategy: She told Netflix she'd go public about the pay gap if they didn't fork over the dough. 
"I was looking at the statistics and Claire Underwood's character was more popular than [Frank's] for a period of time. So I capitalized on it," she said. "I was like, 'You better pay me or I'm going to go public. And they did." 
Wright has starred in every episode of the series' four seasons. Now, she also serves as an executive producer. And, as she found in her research, many do believe she and her hair are the best part of the show. 
Wright is the latest in a line of actresses to speak out about equal pay in Hollywood — including Patricia Arquette and Jennifer Lawrence. 
Jennifer Lawrence said her Hunger Games character Katniss Everdeen inspired her to stand up for equal pay. Lawrence, and the rest of the world, found out she was paid less than her male costars for the film American Hustle during the 2015 Sony Hack, which also got Charlize Theron a $10 million raise. 
While accepting her Oscar for best supporting actress, Patricia Arquette stood up for equal pay, which caused Jennifer Lopez and Meryl Streep to give her a standing ovation. 
"To every woman who gave birth, to every taxpayer and citizen of this nation, we have fought for everybody else's equal rights," she said. "It's our time to have wage equality once and for all and equal rights for women in the United States of America."
One imagines Lopez and Streep would give Wright the same treatment: