South Africa's First Deaf-Operated Coffee Shop to Open in June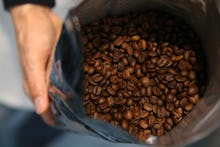 South Africa will be getting its first ever deaf-run coffee shop when iLoveCoffee opens next month. Owner Gary Hopkins said he dreamed up the idea as a way to help deaf South Africans engage with the wider community and combat negative stereotypes. 
Read more: This Starbucks Employee Went Above and Beyond for a Deaf Customer
"This is an opportunity to break down barriers while training and employing people in a relaxed environment," he told the website iol. "Our biggest goal is to combat the misconception that deaf means disabled."
Customers who stop by will be taught the basics of South African Sign Language and then be required to order through sign. Patrons will also be encouraged to interact with employees who will either be deaf or hard of hearing. 
Many who ultimately go on to employment at iLoveCoffee, would have had limited options in South Africa otherwise. 
"I come from a poor area, so my goal is to work hard and use my skills to become fully employed," 23-year-old barista-in-training, Thembelihle Qezu, who is deaf, told iol. Qezu studied hospitality at the country's National Institute for the Deaf.
Watch the video to learn more: