New Music From the Weeknd Just Leaked Online — Listen to the 12 Tracks Here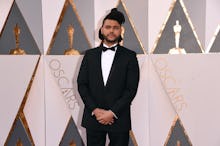 A plethora of previously unreleased tracks from the Weeknd and Travis Scott were leaked online Tuesday night — apparently without permission from either artist. And despite Scott tweeting the recordings that surfaced on Reddit were "not legit," it was too late and each of the artist's tracks went viral. 
The Weeknd has yet to speak on the 12 tracks posted online, which altogether sounds like a nearly cohesive album from the chart-topping R&B artist. Unfortunately for him, the Weeknd wasn't likely planning on joining the wave of music in 2016 with his own project: His latest album Beauty Behind the Madness was released just last year, and the singer hasn't announced any plans to drop another album any time soon.
Read more: The Internet Thinks the Weeknd's Oscar Song Was Better Than 'Fifty Shades of Grey'
The songs that surfaced online don't particularly sound like new hits, but more like a compilation of almost-completed songs the 26-year-old was experimenting with for multiple releases. 
Some of the Weeknd's leaked songs have a nearly identical sound to several tracks off Trilogy, including one track titled "Out Here." Meanwhile, each of the Scott tracks released could be a club banger waiting to be dropped.