Memphis Man Was Rejected by a Woman, So He Shot a 3-Year-Old Girl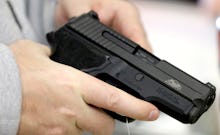 A Memphis, Tennessee, man allegedly shot a 3-year-old girl on Sunday after being turned down by a woman. The toddler is now in critical condition at a local hospital. 
According to local NBC affiliate WMC, "[A] woman was approached as she sat in her car with a child and another woman .... When she told the man she was not interested in him, he started firing into the car." 
LocalMemphis.com reported that the girl's mother had been trying to get away from the situation when the man opened fire. "He can't handle his rage," local parent Dineshia Smith told LocalMemphis.com. The man reportedly fled police.
The story seems to be yet another tragic entry in an ongoing list of violent attacks committed by men who've been rejected by women. Just this past February, Christopher O'Kroley reportedly confessed to shooting and killing his coworker Caroline Nosal after she rejected his advances and filed a harassment complaint against him. O'Kroley later said it was "easy to kill" Nosal.
Incidents like this are further proof that, for many women, turning down men's advances isn't always just a matter of etiquette, it can also be a matter of life and death.