Arnold Schwarzenegger and His Son's Ex-Girlfriend Miley Cyrus Trolled Him on Snapchat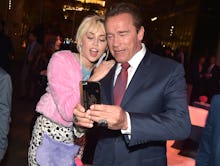 Imagine if your 68-year-old father was on Snapchat. Now imagine if your 68-year-old father uploaded a front-facing video to his snap story in which he and your ex-girlfriend made zany faces together while telling everyone to "eat their hearts out."
Welcome to Patrick Schwarzenegger's life!
Us Weekly reported that Patrick's old man Arnold Schwarzenegger hung out with Patrick's ex-girlfriend Miley Cyrus in New York City on Monday, and then taunted the world with a snap video of the reunion. From Us Weekly:
[Arnold] took to Snapchat to document his hangout session with 23-year-old Cyrus. "I'm here with a great, great entertainer," he gushed...
A vicious act of father-on-son trolling? Maybe. Or perhaps this is Arnold Schwarzenegger's subtle way of throwing shade at Patrick's current girlfriend, model Abby Champion. (Arnold, what's good?) Or maybe Schwarzenegger is just a v. embarrassing dad who's still getting the hang of "this whole Snapchat thing." The true motive behind this video is anybody's guess.
Either way, Patrick doesn't seem to GAF. Twitter indicates that while his dad and ex schmoozed for the camera in NYC, he was busy eating burgers and wake surfing down in Alabama, y'all.