Former Pennsylvania Gov. Ed Rendell Predicts "Ugly Women" Will Be Donald Trump's Downfall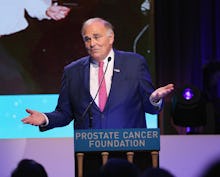 Democrat and former Pennsylvania Gov. Ed Rendell shared an unfortunate theory about how progressives can beat presumptive Republican presidential nominee Donald Trump this November: Angry, "ugly" women.
"Will he have some appeal to working-class Dems in Levittown or Bristol?" the former governor wondered aloud to the Washington Post as part of an article about Trump's appeal in suburbia. "Sure."
"For every one, he'll lose one and a half, two Republican women," Rendell continued. "Trump's comments like, 'You can't be a 10 if you're flat-chested,' that'll come back to haunt him. There are probably more ugly women in America than attractive women. People take that stuff personally."
Yeah. Reducing women's political beliefs to a reflection of their physical attractiveness — especially what a 72-year-old man, who once said the U.S. was turning into a "nation of wussies," finds attractive — is not likely to end up being part of Democrats' political playbook this year.
Of course, plenty of women are less-than-thrilled with the candidate — though it's probably because of his long record of sexist remarks. Polls have consistently shown majorities of women have a negative opinion of the real estate billionaire, with one Gallup survey revealing seven in 10 women find him distasteful.