Here Are the 11 Potential Justices Donald Trump Is Considering for the Supreme Court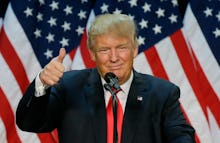 Presumptive Republican presidential nominee Donald Trump on Wednesday released a list of 11 possible appointees to fill the Supreme Court vacancy left by the February death of Justice Antonin Scalia, the Associated Press reported.
The list reflects Trump's promise to appoint jurists in the mold of the late justice, who anchored the court's conservative wing for three decades. All are Republican appointees, and all are white — which is likely to be the focus of fierce criticism from Trump's liberal opponents. Three of the potential justices are women.
Read more: Obama Nominates Merrick Garland to the Supreme Court
President Barack Obama has nominated Judge Merrick Garland to succeed Scalia, but Senate Republicans have blocked a vote on the nomination, arguing that filling the seat is a task best left to the next president.
Here's a look at the 11 men and women under Trump's consideration.
Steven M. Colloton
Appointed by President George W. Bush in 2003, Colloton is an Iowa-based judge on the U.S. Court of Appeals for the Eighth Circuit.
Educated at Princeton University and Yale Law School, Colloton previously served as a U.S. attorney in Bush's Justice Department and worked in the department under Bush's father, President George H. W. Bush after clerking for Chief Justice William Rehnquist.
In the mid-1990s, Colloton served as a lawyer investigating the Whitewater case, a politically-charged controversy centered on Bill and Hillary Clinton's real estate investments in the the 1970s and 1980s.
Allison H. Eid
A justice on the Colorado Supreme Court since 2006, Eid is a graduate of Stanford University and the University of Chicago Law School.
According to her official biography, Eid worked as a special assistant to William J. Bennett, a socially conservative public thinker, during his tenure as U.S. secretary of education, and she also clerked for conservative Justice Clarence Thomas.
Don Willett
Another state Supreme Court justice under consideration, the Texan Willett would mark something of an unconventional choice — in no small part because of his famously colorful presence on Twitter, where he's occasionally skewered Trump himself:
Appointed to the Texas Supreme Court by GOP Gov. Rick Perry in 2005, Willett worked on George W. Bush's 2000 presidential campaign and served in the Bush Justice Department. On his campaign website, Willett touts himself as "Proven. Conservative. Experienced."
Willett obtained his undergraduate degree from Baylor University and received his law degree and a master's degree in political science from Duke University.
Raymond Gruender
A Missouri-based judge on the U.S. Court of Appeals for the Eighth Circuit, the Bush-appointed Gruender has served there since 2004.
Educated at Washington University in St. Louis, Gruender worked as a U.S. attorney in Bush's Justice Department prior to his court appointment.
Thomas M. Hardiman
Since 2007, Hardiman has served as a judge on the U.S. Court of Appeals for the Third Circuit, and previously was a U.S. district judge for the Western District of Pennsylvania, gaining appointments to both positions from Bush.
The judge is a graduate of the University of Notre Dame and the Georgetown University Law Center.
Raymond M. Kethledge
A judge on the U.S. Circuit Court of Appeals for the Sixth Circuit since 2007, the Bush-appointed Kethledge once clerked for moderate conservative Justice Anthony Kennedy and worked as an aide to Sen. Spencer Abraham, a Michigan Republican.
He'd also bring experience in the corporate world to the court, having worked as counsel to the Ford Motor Company.
Joan L. Larsen
It's been less than one year since Michigan Gov. Rick Snyder appointed her to that state's Supreme Court, but Trump's already eyeing Larsen — a graduate of Northwestern University Law School — for a promotion.
Larsen clerked for Justice Scalia and also worked in the Bush Justice Department, and served on the faculty of the University of Michigan Law School prior to her appointment by Snyder.
Thomas Rex Lee
The brother of Sen. Mike Lee of Utah, Thomas Lee is associate chief justice of that state's Supreme Court. The University of Chicago Law School graduate clerked for Justice Thomas and worked for one year in the Bush Justice Department.
William H. Pryor, Jr.
A former Alabama state attorney general, Pryor has served on the U.S. Court of Appeals for the 11th Circuit since 2004.
His nomination by President Bush sparked fierce opposition from many Democrats, who seized on Pryor's statement that the Roe v. Wade decision finding a constitutional right to abortion was "the worst abomination in the history of constitutional law."
Pryor is a graduate of Northeast Louisiana University and the Tulane University School of Law.
David Stras
A justice on the Minnesota Supreme Court, Stras was appointed by GOP Gov. Tim Pawlenty in 2010. The University of Kansas graduate clerked for U.S. Circuit Judge J. Michael Luttig, widely seen as a very conservative jurist.
Diane Sykes
Sykes has served on the U.S. Circuit Court of Appeals for the Seventh Circuit since 2004, when the U.S. Senate approved Bush's nomination of the Marquette Law-educated jurist. She previously served as a justice on the Wisconsin Supreme Court.
As NPR reported, Sykes wrote a majority opinion for the Seventh Circuit upholding an Indiana law that prohibited Medicaid from funding any group that performed abortions, including Planned Parenthood.