Can You Spot Why Everyone's Staring at This Picture of a Damn Brick Wall?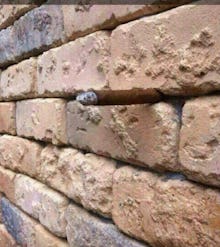 Can you spot why everyone on the internet can't stop staring at this picture of a brick wall?
The photo, posted on Facebook by Arron Bevin on Monday, has been shared more than 47,000 times and racked up more than 60,000 comments, mostly from people trying to figure out what the fuck they're staring at.
Bevin said it took him "a good 5 minutes" to figure out the illusion, while others couldn't figure it out at all.
So what exactly are you supposed to be seeing?
Bevin later posted this obvious clue:
Yes, the "illusion" is actually just a cigar sticking out from between bricks of the wall.
Yeah, that's it — it is definitely no dress. 
Read more: This Comic Book Cover Features An Optical Illusion Only 1 in 15 People Can See