The Streets of NYC Will Smell a Bit Less Putrid This Summer, Thanks to New Food Waste Law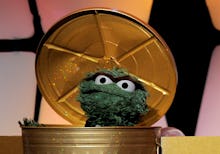 Just in time for summer, the season where New York City trash smells extra ripe, the city is taking a bold stand on recycling food waste. 
Starting July 19, the NYC Department of Sanitation will mandate that many large hospitality businesses (like restaurants and hotels) separate organic waste from recyclables and other trash. 
The law applies to 350 of the largest businesses, including stadiums, restaurants and hotels, Eric Goldstein, director of New York City's Environment at the Natural Resources Defense Council, said by phone. 
A number of other cities including Seattle and San Francisco have already implemented organic waste recycling, and Goldstein thinks this is the final frontier for properly handling of America's trash stream. 
Additionally, Massachusetts, Vermont, Connecticut and California have regulations regarding commercial food waste, Laura Abshire, the National Restaurant Association's director of sustainability policy, said in an email, noting that additional areas like Orlando, Florida, have voluntary programs that help businesses reduce food waste. 
"The message has gone out that New York City is going to treat its food scraps sustainably and get them out of landfills and into compositing or anaerobic facilities," Goldstein said, noting that the law was written back in 2013. 
Why the hubbub over a bunch of rotten scraps? When consumers and businesses send organic waste to landfills with other trash, these scraps release methane, Goldstein noted. "Methane is a very potent global warming gas, between 20 and 80 times per ton as potent as carbon dioxide," he said. "Landfills are the third largest source of emissions, and organics are the main contributor." 
But all those food scraps can be put to good use: When composted, food scraps can fertilize gardens and reduce the need for pesticides, Goldstein said. The compost helps soil retain moisture and reduces need for water, which is especially important for places like California, where drought is common. 
It's way easier to deal with municipal waste like cardboard, paper and regular trash when you separate out organics, Goldstein said. Plus, the trash will stink less. Hallelujah. 
When cities like NYC start phasing in organic waste recycling, it "signals to the restaurant industry that sustainable ways of dealing with food waste are here to stay," Goldstein said. "It's not always easy to get businesses to invest in new composting," he noted, but hopefully the new law will make organic food recycling more cost effective for all. 
Abshire echoed Goldstein's enthusiasm in her email, noting that recycling food waste will require a team effort from policymakers, restaurateurs and waste haulers. "No one company or entity can do it alone, but we are committed to working within our industry to make progress," she said. 
Progress toward a cleaner planet, and for the love of cleaner-smelling streets, at the very least.